Best Location
Living where others
go on holiday
Located in the heart of Kirchberg, the 16 premium apartments in Adler Lodge – including an exclusive penthouse and an outstanding villa – are just a stone's throw away from the local ski slopes and swimming facilities. And all the shops and services that you need are just around the corner.
Nestled amid the surrounding mountains, Adler Lodge offers sweeping views of the breathtaking panorama offered by Kitzbühel's Alpine peaks. This idyllic setting makes Adler Lodge the ideal starting point for outings into the magnificent countryside, but also the perfect hideaway for those in search of a quiet retreat. If you call this your home, then you are living where others normally go on holiday.
Come in and look around!
3D tour of the penthouse
Take a tour through the heart of Adler Lodge and enjoy the atmosphere, interior and breathtaking views from the penthouse in a virtual experience. Make yourself comfortable in Kirchberg at any time of the day or night, without needing to travel. Step inside and explore the top floor of Adler Lodge. And allow your dream home to become virtual reality.
Facts & Figures
residential units between 65 and 190 m²
villa with 253 m² living space
energy from renewable resources
parking spaces in the underground car park with power outlets
panoramic view from the penthouse
living
The future is
built on wood
State-of-the-art timber hybrid construction guarantees the ultimate in well-being at Adler Lodge. There is green thinking behind every single aspect, and even the 25 parking spaces are all equipped for every type of e-mobility.
The 15 Apartments
Each of the 15 apartments in Adler Lodge fulfils every expectation of its inhabitants. During the planning phase, every effort was made to take into account all options in the different floor plans.
The Penthouse
But the inner world of this extraordinary living space is also an eye-catcher: Aufschnaiter has created an interior that hits all the right notes. Luxury is redefined here! > Floor plan
> 3D view
The exquisite Adler Lodge penthouse is certain to exceed every expectation. In fact, your heart may skip a beat or two as you take in the spectacular panorama of the Kitzbühel mountains.
The Villa
The superb villa is undoubtedly the heart of Adler Lodge. It integrates all the advantages of the 16 apartments, combined with an outstanding degree of privacy.
The 253 square metres of living space speaks for itself, and the top-quality furnishings throughout the villa leave nothing to be desired, yet give free rein to your dreams. > Click here for the villa floor plans
Overview /Floor plans
The available living space in the 16 apartments ranges from 65 to 190 square metres.
Want to know more?
Adler Lodge is currently under construction. If you would like further information on this exclusive building project, please get in touch!
Special Features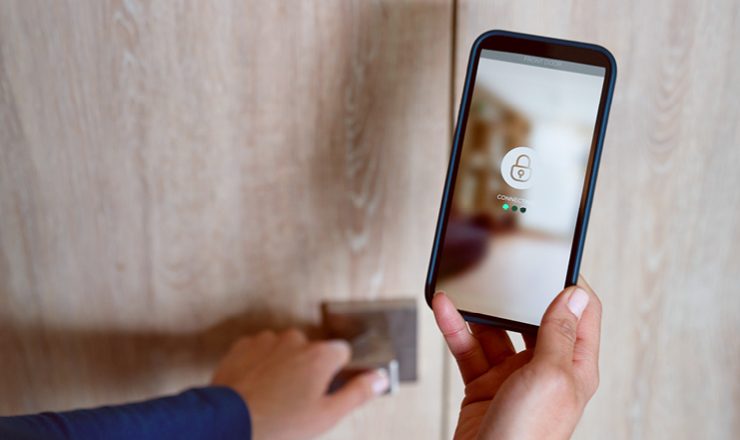 App-controlled
Today, we have the technical capabilities to keep an eye on our home from anywhere in the world. So it goes without saying you can do this at Adler Lodge with our own app and intelligently integrated smart home system. In fact, virtually everything that makes living in Adler Lodge so relaxed and easy can be controlled and monitored via the app.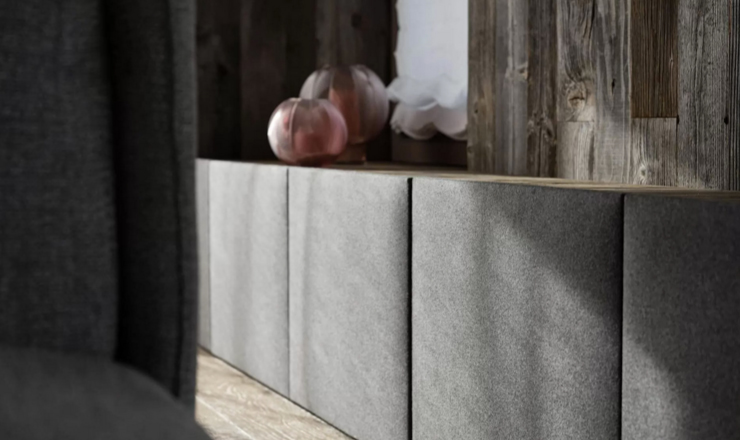 Attention to detail
A special result requires attention to detail. As you would expect, the furnishings and fixtures of all apartments and common areas are of premium and lasting quality. This is the work of the renowned Tyrolean design studio Aufschnaiter, inspired by the interplay between nature, passion and a close affinity for the region.
Hard Facts
An overview of Adler Lodge
Construction

Timber hybrid

Residential units

15 apartments, 1 penthouse, 1 villa

Power generation

Photovoltaic system on the roof

Heat production

Geothermal heat pump

Heating

All living spaces have floor heating

Apartment cooling

Floor cooling

Penthouse & villa cooling

Additional ceiling cooling

Ventilation

Intelligent home ventilation

Certification

"Gold" climate-friendly certification

Remote control

Smart home control with special app

Parking spaces

25 car parking spaces

E-mobility

All parking spaces suitable for wallboxes

Location

In the heart of Kirchberg
Gerald Beck, Managing director
UBM Development Österreich GmbH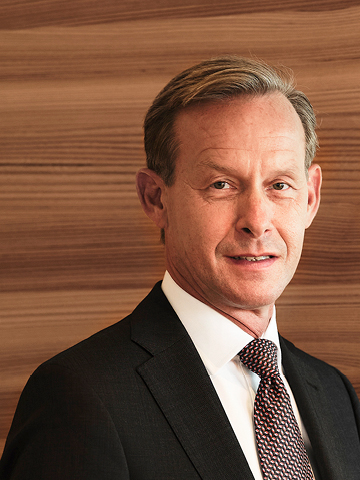 "With our own photovoltaic system on the roof and ground-source heat pump, timber hybrid construction, intelligent home ventilation, state-of-the-art smart home control system and installations for e-mobility, we are independent of fossil fuels and thereby achieve the highest possible degree of energy efficiency for a long life cycle and sustained property value."
Location
A playground
in paradise
Whether you are looking for magnificent ski slopes or romantic mountain adventures in
summer, the Kitzbühel region has it all. And as if that weren't enough, you'll find both
popular brands and luxury labels to make life in paradise.
And as if that weren't enough, you'll find both popular brands and luxury labels to make life in paradise even more pleasant. We can confidently say that the area around Adler Lodge in Kitzbühel
has everything that you would normally only find in an urban environment. Plus the pure
delight of nature!
Location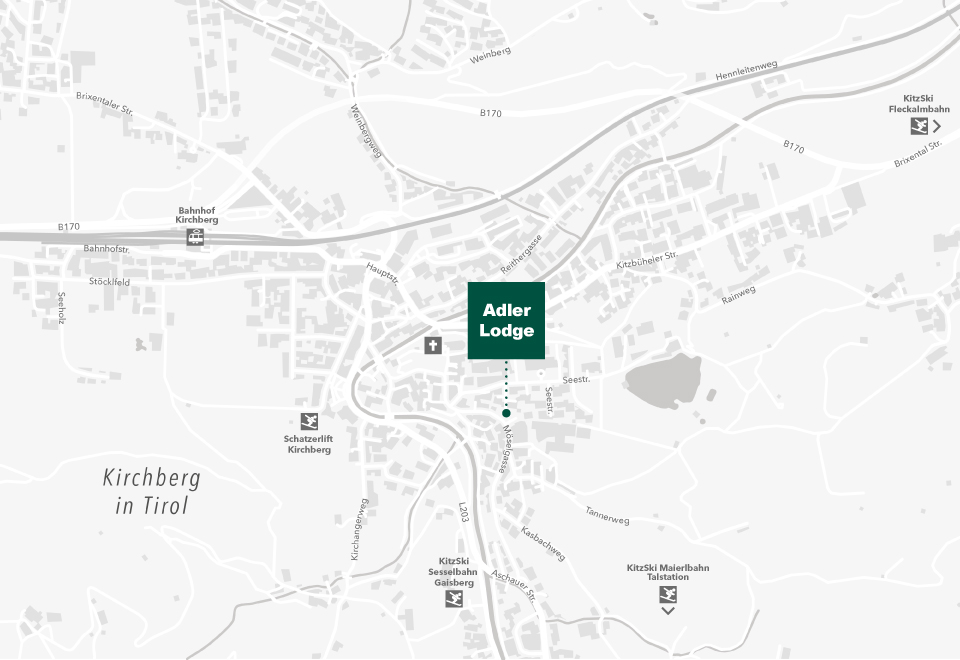 The map shows the central location of Adler Lodge: every imaginable convenience and activity is within walking distance, making it easy to reach at any time.
Kirchberg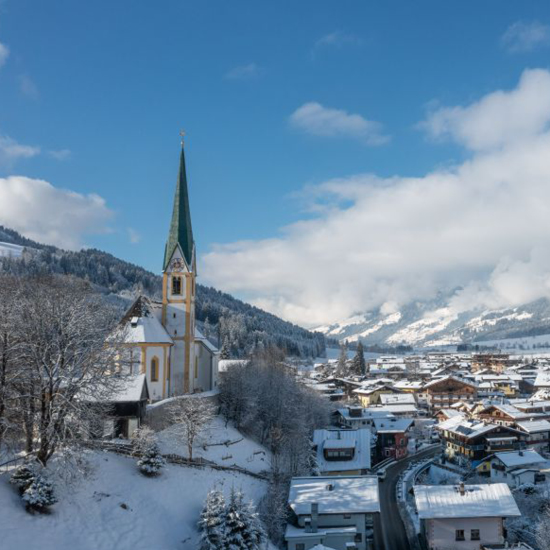 In the heart
of the Alps.
In summer, the town is an ideal starting point for hiking and cycling trips. Whether as a couple or as a family – there's something for everyone here.
Just six kilometres from its "big brother" Kitzbühel, you'll find yourself in idyllic Kirchberg. As part of the KitzSki ski area, skiers will enjoy endless fun on the slopes here in winter.
Contact
Come and see
for yourself!
Development
UBM Development Österreich GmbH
Porr Straße 1
6176 Kematen, Austria
UBM Development is one of Europe´s leading developers of timber construction projects. The strategic focus is on timber construction, green building and smart office in major cities such as Vienna, Munich, Frankfurt or Prague. A Platinum rating from EcoVadis and Prime Status from ISS ESG confirm the consequent focus on sustainability. With 150 years of experience, UBM offers all development services from a single source, from planning to marketing. The shares are listed on the Prime Market of the Vienna Stock Exchange, the segment with the highest transparency requirements.


Advice and Sales
Gornik Immobilien GmbH
Aschbachfeld 5
6370 Kitzbühel, Austria
Walter Gornik

Architecture
Haselsberger Architekten
Karl-Schönherr-Straße 25
6300 Wörgl, Austria

Interior design
Aufschnaiter
Almdorf 5
6380 St. Johann in Tirol, Austria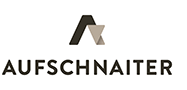 This site is registered on
wpml.org
as a development site.